Testimonials
Contact

 David Brown
  Owner, Triad Defense
  505-814-4128

Close Quarter Pistol Tactics
Upcoming Classes:
January 2, 3, 5, and 6: Level 2 Security Guard Certification Training
January 4: Level 1 Security Guard Certification Training
January 8: Level 1 Security Guard Certification Training
January 8 and 11: Level 3 Security Guard Certification Training
January 11: Level 3 Re-qualification 4 Hour Level 3 Continuing Education for Central Consolidated School District Tactical Response Team
January 20: Tactical Knife Seminar
Security Guard Certification Courses are scheduled based on private or agency need. Call for details.
Private and Group CCW classes are forming based on scheduling requirements. Week days and weekends are available. Call for details.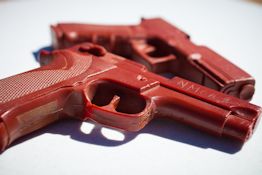 This 8 hour course was developed for the practitioner of the fine art of firearms.  CQPT is not a live fire training program.  Instead it incorporates air soft equipment to simulate live fire. This course is intended for individuals who are serious about home security and personal survivability in the face of hand-to-hand confrontation.  This training is part of the Triad Defense progression of proficiency for the serious firearms practitioner.  This training incorporates and builds upon the skills learned during the Tactical Urban Pistol Training offered by Triad Defense. The avid gun enthusiast with fundamental firearms skills will be challenged in this training. Attendees will learn the following skills:
Home security
Home defense
Safe-room requirements
Family safety plans/ threat response
Ballistic concerns within a residence
In home firearm deployment principles
In home firearm deployment utilizing an armed partner (spouse, family member) 
Carbine, shotgun vs. pistol –Deployment principles within the home
Edged weaponry
Use of flashlight and residential interior lighting
Room clearing techniques
Hand-to-hand principles
Weapon retention tactics
This course is considered high stress training. The first 4 hours are devoted to developing basic hand-to-hand firearm survival skills, as well as home defense principles. The student will then be placed in survival scenarios which will require application of learned skills. Air soft guns will be incorporated within a shoot house. All equipment will be provided by Triad Defense. Attendees must expect to experience moderate to high levels of physical exertion and mental challenge. For more information or to reserve a slot in this training please contact David Brown by email (david@triaddefense.com) or direct at (505) 814-4128. 
The class will be held at Four Winds Martial Arts Academy. 
A printable flier for this class can be found here.
---