Testimonials
Contact

 David Brown
  Owner, Triad Defense
  505-814-4128

Concealed Carry
Upcoming Classes:
Continuing Education hours, as well as re-qualifications for CCW and Level 3, NM Security Officers are conducted on a continual basis. Call for details.
Level 2 and Level 3 Security Guard initial certification courses are scheduled as requested by agencies or individuals. Call for details.
February 1: Level 1 Security Guard Certification Training
February 7: Level 1 Security Guard Certification Training--Closed Special Training Session
February 10 and 11: New Mexico Concealed Carry Certification
February 15: Level 1 Security Guard Certification Training
February 17: Tactical Knife Seminar
February 24: Expandable Baton for Self Defense
February 25: Triad Defense instructor continuing education (closed to public)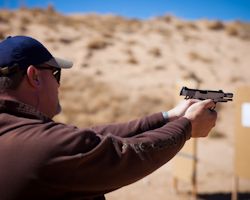 Concealed Carry Handgun Training (CCHT), as offered by Triad Defense, meets and exceeds State of New Mexico standards for concealed carry licensure. This two-day course addresses the training needs of clients with no handgun knowledge, as well as avid shooting enthusiasts. Novice handgun users are guided from the most basic skills to the ability to handle a firearm with confidence and safety, while experienced shooters are exposed to high-stress, scenario-based training that challenges and improves their skills.
For Triad Defense, this training is not just about the license or permit to carry a concealed handgun. It is about providing clients with the skills necessary to survive a deadly conflict. It is about giving them a firm understanding of the law, knowledge of their weapons, belief in their abilities, and the foundation to make solid decisions. Triad Defense founder, David P. Brown, takes the State of New Mexico requirements for concealed carry seriously. There are no short-cuts in this training--no quick way to a permit.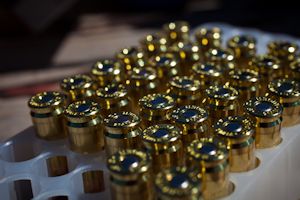 As a career law enforcement officer, David P. Brown believes in the effectiveness of face-to-face, one-on-one, realistic training. He teaches environmental awareness, verbal de-escalation skills, effective hand-to-hand principles and the fine art of firearm use as a last resort. When the moment to qualify arrives, the candidate will not only be equipped with solid marksmanship fundamentals, but also the confidence that comes with a proficiency in "shoot, don't-shoot" decision making that saves lives, and if necessary, provides legal protection in a court of law.
The following topics are covered in Triad Defense's 16 hour, Concealed Handgun Carry Course:
New Mexico and Federal firearms law
New Mexico and Federal Use of Force law
New Mexico and Federal Concealed Handgun law
Reciprocity
Firearm safety
Semi-automatic and revolver standard nomenclature
Cleaning and maintenance
Storage of firearms
Ammunition
Fundamentals of marksmanship
Recognition and handling of firearm malfunctions
Principles and techniques of concealed carry
Deployment of firearm from concealed carry
Understanding the criminal element
Principles of verbal de-escalation
Principles of hand-to-hand self-defense
Shoot, don't shoot, scenario training
Home invasion
Range safety
Qualification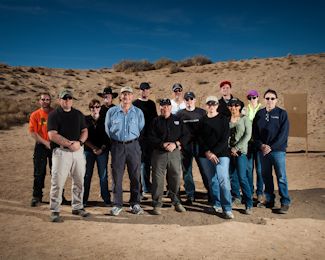 All classroom instruction will be held at Four Winds Martial Arts Academy and all on-range training will take place at the City of Albuquerque's Founders Ranch.
View reviews of Triad Defense's Concealed Carry Classes here.
Save
---